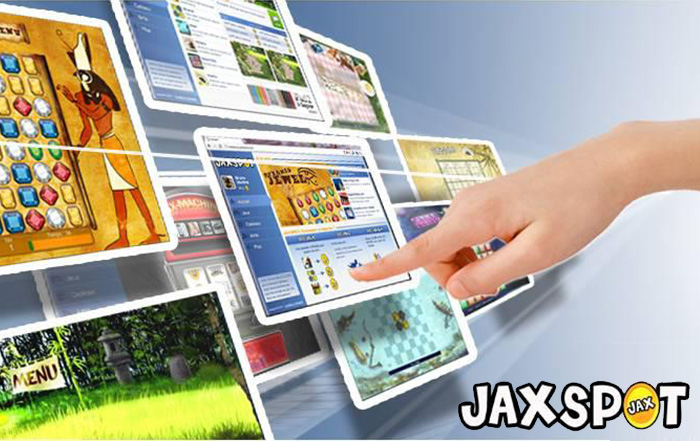 Playtouch, specialized in casual games, has just finalized a first fundraising of 300K€ to accelerate the development of JAXSPOT, the first multi-platform Play for Win games service (mobile, PC, TV and Tablet).
Founded in November 2010, by a team of mobile gaming professionals and web development experts, the company has just launched JAXSPOT, an online gaming service to win prizes.
"Internet video game services for the general public to win prizes are extremely popular on PCs, but do not target other devices (Mobile, TV and Tablet). Our ambition is to quickly become the leading player in this market by relying in particular on mobile media." explains Stéphane Hervé, CEO of Playtouch.
Playtouch's totally innovative multi-screen approach offers players the possibility of playing in all circumstances in the best conditions: the mobile on the go, the iPad on the sofa, the PC at the office, with the family on TV… Whatever the situation or gaming screen, Playtouch offers the same games and the same gaming experiences.
The fundraising of 300K € was carried out with the founders, historical shareholders and 3 Business Angels active in the video game industry and Telecoms. This money will allow Playtouch to accelerate the development and marketing of JAXSPOT in France and internationally. Marketing campaigns on JAXSPOT  has only started a few weeks ago, but the first stats are very promising, adds Stéphane Hervé: "The average time for games sessions is, for instance, 3 times higher than that of other players in the casual gaming. User feedback is very good and very positive as the average score given by players to JAXSPOT website is 4 stars out of 5. We can't wait to see what happens when we'll reach our first million users.
The original positioning of Playtouch has allowed the company to attract many players in innovation and start-up financing such as OSEO, Scientipole Initiatives or even AFACE Yvelines. The company is notably the winner of the Neuilly New Media competition and is now housed in the JCDecaux premises in Neuilly.